Despite the widespread idea that truffle is just a winter ingredient, here we come with the Summer Truffle Season!!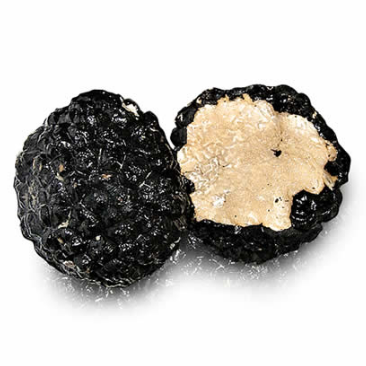 Summer Black Truffle, Summer Truffle, Scorzone
Tuber Aestivum has got a few nicknames. Although not held in such high regards as the winter variety, summer truffles are still a delicious and versatile ingredient.
With a rough black exterior and brown flesh mottled with white veins, Summer Truffles have a delicate but distinctive aroma: it is not as spectacularly fragrant and aromatic as the white truffle, but it does have a very nice perfume, much more subtle (and that's why they're less expensive!), but still quite lovely.
They are better utilized by being cooked, to bring out the most of that subtly earthy chocolaty flavor as possible.

Depending on weather variations, the season for this truffle goes from May to the end of September. They grow among oak, hazelnut, chestnut, elm and poplar trees.
Please be careful and do not confuse it with the Chinese Truffle Tuber indicum or the black one which born in eastern Europe…the taste anf flavour characteristics are really different and the most important fact to know is that they do not have a gastronomic value.
We want to remind you that
We only market ITALIAN WILD TRUFFLES, we have made a choice: we want to work only with the best products that Nature gives to us, we don't want truffles that come from plantations and we don't want foreign truffles. Even if prices are cheaper and so the product become easy to sell, we know what's different and we want to make the difference.
Unfortunately what the market sometimes offers is a variety of products below standards that is commonly proposed as truffle, and it happenes especially abroad.
It is estimated that more than 70 different truffle species exist worldwide (thirty of them in Europe) each one with a different gastronomic value and with different organoleptic characteristics, but only a few of them are actually edible.